The first "Griff's Burger Bar" opened in March of 1960 in Wichita, Kansas. The company was founded by H.J.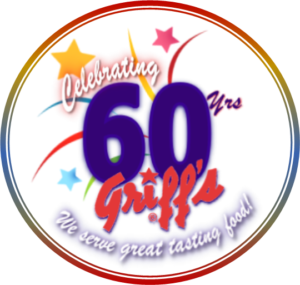 Griffith.  The vision at that time and still today is to sell quality food at an affordable price.
We are proud to say the Griff's Hamburgers has never wavered from that commitment.  While our menu has broadened slightly from the original hamburgers, cheeseburgers, sodas, fries and shakes, we have not lost track of what our loyal Griff's customers have come to expect on every visit…
Great Tasting Food at an Affordable Price.
If you are among our long standing customer base, we thank you so much for now 60 years of loyal business.  Our pledge to you is to continue the same "great tasting" burgers that created a memory for you on your first visit.
If you have never visited a Griff's Hamburger Restaurant we hope you come join us and find out why
People Like Griff's!